Now let's take a look at an electric SUV that plays an important role in the French automobile: the French-made DS3 Crossback E-tense.
CHARACTERISTICS OF THE DS3 CROSSBACK
In terms of engine technology, the SUV is very close to what the other two French brands, Renault and Peugeot, offer. Indeed, the 100kW (136hp) engine allows a maximum speed of 150 km/h and to exceed 100 km/h in 8.7s.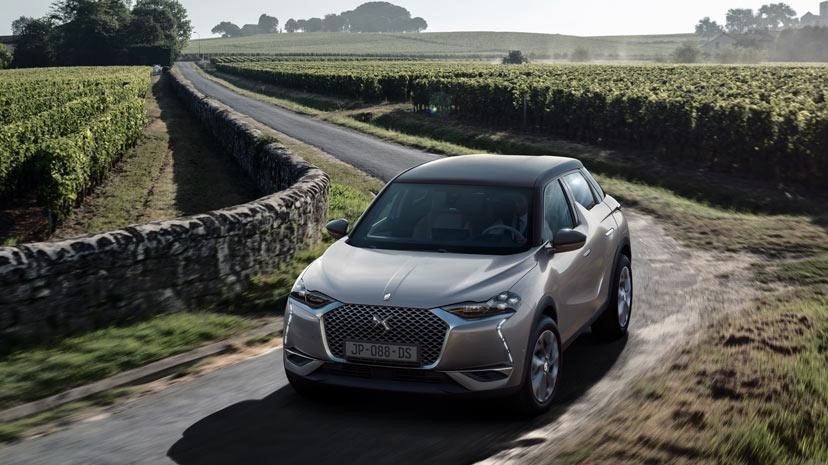 The PSA Group brand describes its vehicle as a compact SUV with a "bewitching light signature". In order to appeal to buyers, the DS3 Crossbar has handles that extend and retract as the driver gets closer and further away. The car also locks and unlocks automatically.
On the options side, DS offers 5 versions for different finishing levels. However, we can note that certain safety assistance tools such as emergency braking or speed sign recognition are available for all vehicles at no extra cost, unlike some of its competitors. This allows the vehicle to reach the 5 stars of the Euro NCAP safety test.
You will still need to upgrade to a higher version to access parking assistance or LED lights that adapt to their environment to be in high beam without dazzling other drivers. Other finishes are also possible.
AUTONOMY AND RECHARGING OF THE DS3 CROSSBACK
With a 50 kWh battery that gives it a range of 320 km WLTP, the DS3 Crossback does not match the performance of the French (340 km for the Peugeot e-208 and 386 km for the Renault Zoé), in particular because of its greater mass. But it should rather be compared to another SUV, the Hyundai Kona. The range of the DS is then between the 2 versions of the Korean car.
To recharge his vehicle, the customer will be able to connect to a domestic plug thanks to the type 2 cable to recover 80% of autonomy in more than 15 hours. Another solution, much faster, will be to get a 7.4kW WallBox which, with the single-phase type 2 cable, will recharge the car in 7.5 hours. This same cable can be used on the public terminals, but to be able to charge the car more quickly on these same terminals, the optional 11 kW three-phase cable will be required.
The latest recharging solution is the use of 50 or 100 kW quick charging stations as the car is compatible with them thanks to its CCS Combo connector. In 30 minutes, an autonomy of 80% will be recovered on the 100 kW terminals.
IS DS3 CROSSBACK A GOOD BET?
The vehicle is categorized as an SUV, so it offers more space, including a larger trunk than Hyundai's SUV, the Kona. The French manufacture relies on a design and technologies that are not available on all other vehicles in order to gain market share.
However, its larger mass makes it lose autonomy, even if it remains quite honorable. Its compatibility with quick charging stations and its large trunk make it suitable for holiday trips.
In terms of price, the DS3 Crossback costs between 39500 and 46000 euros depending on the version. Its price is therefore equivalent to the 64kWh version of the Hyundai Kona (39700 euros) which allows a much higher range (449 km compared to 320 km) with a similar level of finish.
The DS3 Cross-back E-tense in a nutshell
A range of 320 km.
A price starting at 39500 euros.
Recharging in 7.5 hours at home and in 30 minutes on the 100 kW fast charging stations.
A use for fairly short daily trips and a possible departure on holiday.